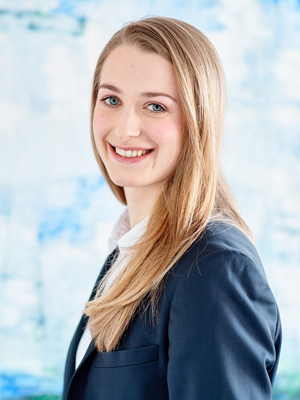 Lina Walz
Research Consultant
Lina Walz completed her Bachelor in Business & Psychology at the International School of Management in Frankfurt, also spending one semester in Seville. During her studies she completed an internship at Signum in Wrocław covering Executive Search. Through the internship she found her way to our Frankfurt team. She joined Signium in October 2020 and two years later she accompanied the rest of the Frankfurt Team, joining Montalbetti Partners as part of the rebranding.
Currently her focus is on research and initial contact, but she is also stepping up to the advisor role for the areas of Transaction Services and Financial Services, supporting various projects from initiation to final successful placement of candidates.
Her strong communication skills and drive are an asset to the experienced core team. In addition to the necessary PMO skills, she also has a keen eye for exciting candidates and readily takes on project responsibility. In order to broaden her professional horizons, she is currently completing a master's degree in finance at the University of Applied Sciences in Aschaffenburg, which she expects to complete in 2023.
Expertise
Research & Knowledge Management
Management Consulting
Transaction Services / M&A